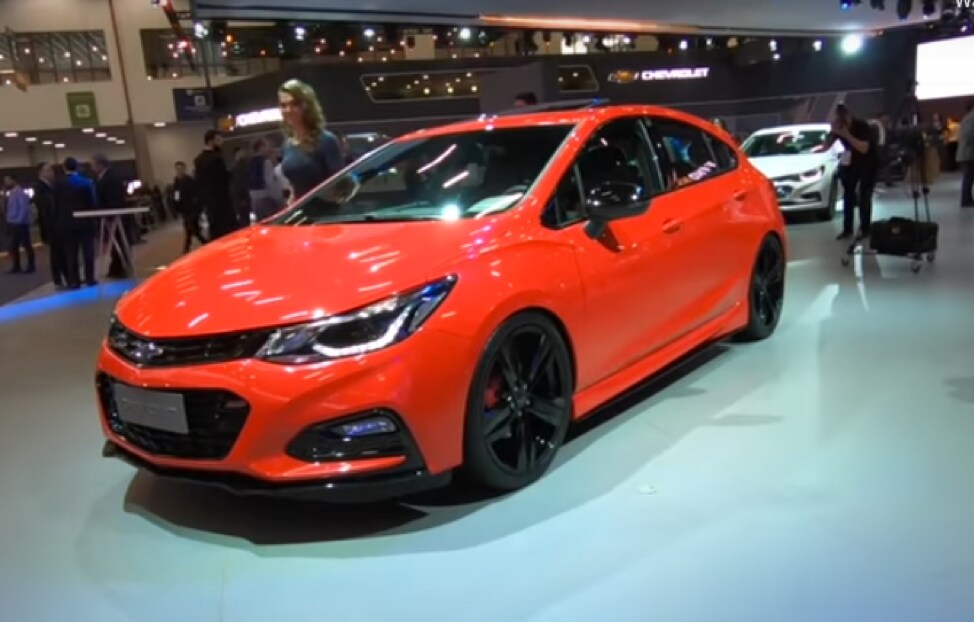 Image credit: Falando de Carro
While the US auto market is flooded with crossover SUVs, there's still a need for affordable compact cars. Specifically, hot hatchbacks. You know, those FWD compact coupes and sedans with diminutive size that pack above average horsepower and have a 5th door so you can fit a few weeks of groceries in the back of the car. The Cruze would be a great hot hatchback.
Unfortunately for the Chevy Cruze, GM hasn't shown much, if any, interest in turning the Cruze into the next hot hatch for America. They've even discontinued the manual transmission for 2019 models. They've had success with hot hatch cars in the past (for example, the 260hp turbo charged Cobalt SS), so it seems this is a missed opportunity. Instead of creating enthusiast-geared options for the Cruze, GM seems inclined to participate in the hot hatch market with the 4 cylinder Camaro. This decision seems to be made based on the fact that performance parts already exist for the Camaro, making this a more economical way to compete in the market (versus creating new engines, suspensions and performance parts for the Cruze).
However, all hope is not lost (slim as it may be). The Brazilian branch of GM built its very own Cruze SS concept car specifically for a car show in Sao Paolo.
In a video appearing on the YouTube channel Falando de Carro, we're shown the concept car. The concept car uses the American Cruze RS factory body kit paired with a set of 20" wheels. It's not a radical look, but for a hot hatch, it's what's under the hood that counts.
The concept Cruze sports a little 1.4L turbocharged 4 cylinder that's been prodded to produce an outstanding 296hp! In the YouTube video it appears that the engine has been treated to a high-flow intake, an upgraded (and perhaps larger) turbo and intercooler piping. To get 296hp out of the 1.4L most likely would require tweaks to the ECU (engine computer) and maybe even the fuel injection system.
A staple in the performance world is braking power and it seems that the brake system has been upgraded to slotted rotors. The interior looks to have bucket seats with Sparco racing belts in the front, and an upgraded sound system.

Color us sold. GM, we are counting on you. We want this sporty Cruze to be available in the US. Sure, Camaros are cool, but they just don't fit in the hot hatchback market. Of course if you're in the market for a vehicle with excellent gas mileage, good looks and reliability, the Cruze fits the bill, even if there isn't a 296hp version available. Check out our full inventory of Cruzes here, or stop in our Greenville or Urbana locations to test drive one today!